"When My Dreams Come True." Composed by Irving Berlin for the Marx Brothers film The Cocoanuts (1929). Recorded by Philip Lewis and His Orchestra (a.k.a. the Rhythm Maniacs) under the musical direction of Arthur Lally with vocalist Elsie Carlisle on September 14, 1929. Decca F. 1539.
Personnel: Arthur Lally cl-bas-bsx dir. Sylvester Ahola-t / Danny Polo-cl-as-ss / Johnny Helfer-ts / Claude Ivy-p / Joe Brannelly-g / Max Bacon-d-vib
When My Dreams Come True – Elsie Carlisle w. Philip Lewis & his Dance Orchestra
Video by David Weavings (YouTube)
It is not infrequently that I hear a rare Elsie Carlisle recording for the first time on the YouTube channel of collector David Weavings, a.k.a. "jackpaynefan."  The other day David gave me an extremely pleasant surprise when he uploaded a 1929 Decca side incorrectly listed in Rust and Forbes's British Dance Bands on Record as featuring the voice of Maurice Elwin and which is absent from other discographies focusing on Elsie Carlisle or female singers in general (although Dick Hill's 1993 Sylvester Ahola discography correctly identifies Elsie's role in the recording).1 As it turns out, Decca F. 1539's "When My Dreams Come True" pairs Elsie's voice nicely with the rich sound of the Rhythm Maniacs (as Philip Lewis and His Orchestra).
"When My Dreams Come True" is the recurring theme of Paramount's 1929 The Cocoanuts, the first Marx Brothers feature. The song is introduced by Oscar Shaw and Mary Eaton but performed throughout by a number of characters (twice by Harpo, on clarinet and harp). The Cocoanuts can be considered a successful comedy, but it suffers from the awkwardness of other early sound films, which faced the novel problem of trying to figure out how to integrate dance routines with non-musical material. Elsie Carlisle's recording with the Rhythm Maniacs lacks any such awkwardness: she sings with confidence and ebullience, especially when we compare her singing on this record to her excellent but admittedly slightly flawed first session with that band.
"When My Dreams Come True" was recorded in America in 1929 by Franklyn Baur, Paul Whiteman and His Orchestra (with vocalist Jack Fulton), Hal Kemp and His Orchestra (with vocals by Skinnay Ennis), and Phil Spitalny's Music (with the Pauli Sisters). It was made popular in Britain in 1929 by Bidgood's Broadcasters (as Al Benny's Broadway Boys, with vocalist Cavan O'Connor), The Gilt-Edged Four (with vocals by Norah Blaney), Betty Bolton, and by Stanley Kirkby and Rene Valma. In March 1930 it was recorded by Harry Hudson's Radio Melody Boys (with vocalist Sam Browne).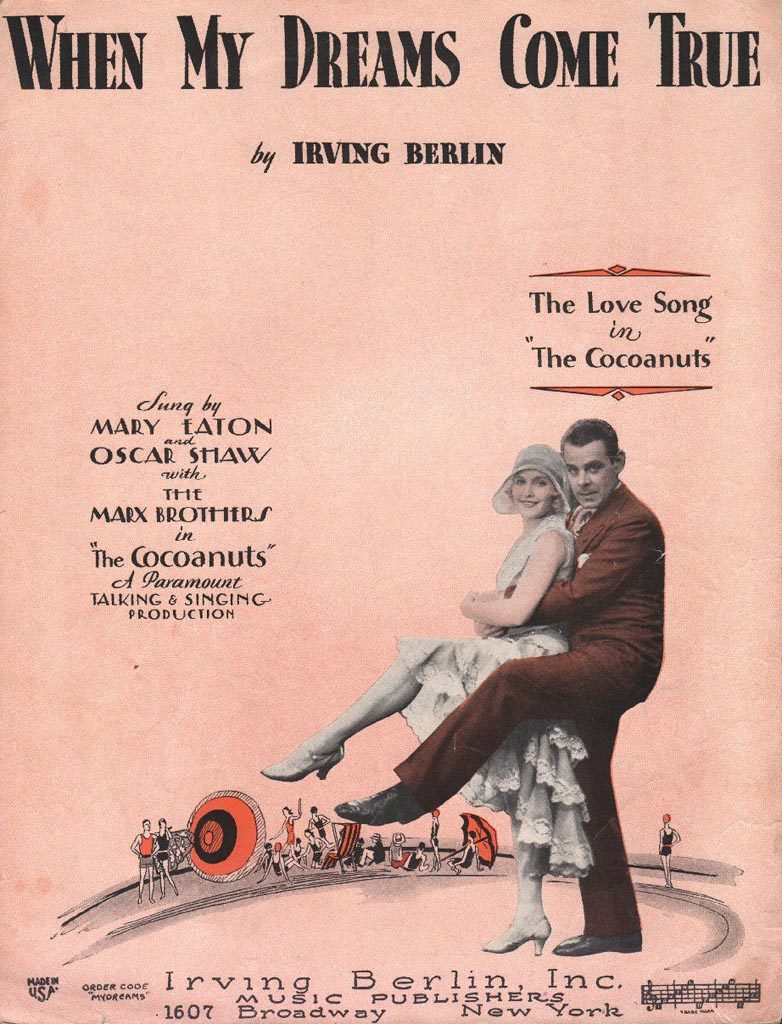 Notes:
Hill, Dick. Silvester Ahola: The Gloucester Gabriel, "Discography," especially pp. 151-155 (Metuchen, New Jersey, 1993). My thanks to John Wright and Barry McCanna, who referred me to this fascinating volume. ↩